Identify a problem and design a low tech and high tech solution
It's difficult to stay focused and motivated while working from home, since the same social cues aren't existent. How can we recreate this environment without unnecessarily intruding on others' lives?
Cafés are a popular work from home destination, with its welcoming atmosphere, light but pleasant distractions, and pressure to work, it's a location that promotes a healthy work-life balance. However, the café's not accessible 24/7.

Ambi allows the user to bring these elements of a café into their work routine whenever needed.
Roles:

 Research Design, Industrial Design, Interaction Design, Prototyping


Materials:

walnut, tea light, plastic sphere, SLA print




Tools:

 Solidworks, Keyshot, heat gun, mill
Step 1



By placing the tealight in and eventually expending it, it's

a promise to yourself that you will use this time well,

similar to a cup of coffee
Step 2



As it is in use, it will crackle in the background and release the smell of baked bread and coffee towards you. This will last for about 3 hours, where it will dim itself and subtly remind you that you've worked for a while and can stop.
Step 3



When all the wax melts away after a work session, the metal wick reveals itself and you can collect them. This acts as

a reward for your hard work and affirms that you can rest.
Generative Research:
Grasping where to tackle the problem
Interviews:
Filling the Holes
Settling on Emulating a Café Environment
"The Coffee Shop Effect"



Neurologically, coffee shop level noise is considered stochastic resonance (background-noise-induced sensory signals) which helps the brain break out of mental ruts.

Micro-stimuli - the differing people, aromas, and light causes the brain to work differently than from home
Making a Scented Candle




Scent: baked bread, coffee bean, brown sugar, marshmallow



Curious, I went to a candle mixing place to see if I could make a

"cafe" scented candle.

Funny enough, one of the workers there commented that my candle smelled like a cafe. Making this made helped me feel assured that this scent is possible and that I wasn't just making things up. This served as my smell model.
I had intended for my physical model to be 3D printed in resin, but the print failed 3 times. Through quick thinking, I resorted to heat forming a plastic sphere into my desired shape – which looks more like glass
At the end of a work session, there are collectible metal wick holders waiting. This
brings joy and satisfaction
to the experience as well as
cutting down on the waste
of these wick holders
With companies like Square and Slack announcing that they plan on going remote in the future, working from home will become more prominent. Without a physical workspace, Current enables the benefit of being able to get a feel for the "room" and motivation to work while still keeping the private barrier of being at h

ome.
​​​​​​​Roles:

 Research Design, Industrial Design, Interaction Design, Physical Computing, Prototyping


Materials:

Paper, 

Cedar, Biscuits


Tools:

Blender, Solidworks, Keyshot, Biscuit Joiner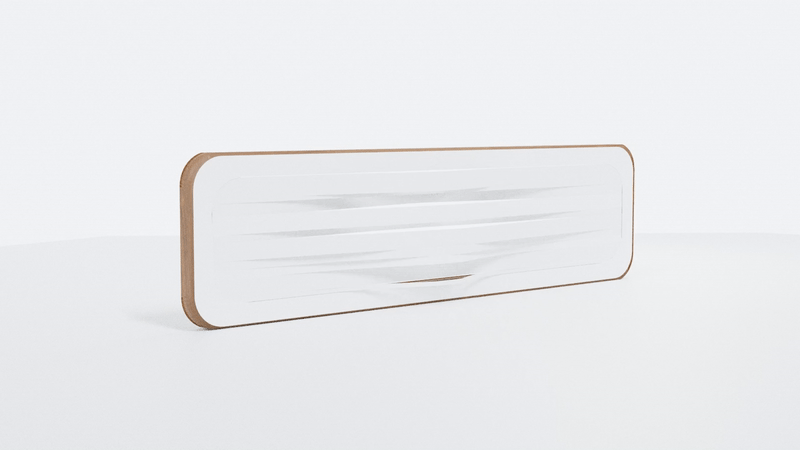 Interaction Design




Each ribbon is a coworker, and the amount of wave symbolizes how much they are working

. However it's important to note that each ribbon is

nameless

and will change every day.

The goal i

s to simulate the working environment rather than to spy on who's working and who's not.

The amount of "work" is measured unobtrusively. Sensors take in sounds that one would hear if they were in an office – keyboard clacking, pencil scratches, etc.

 and translates that into live waves over slow 15 minute increments.
Visual Design


The length of this device due to the fact that it is meant to sit behind your workspace and thus work in your

peripherals

– just like in a real workspace. Each ribbon is a different size to give

visual variety

. Not only does this stimulate creativity, it also emulates a real work environment (not everyone is visually the same size due to perspective). The ribbons also give a calming effect which helps a stressful environment.
​​​​​​​
The Ribbon
The ribbons would have a non ferrous wire mesh inside that allows them to be pushed by the electromagnets. The ribbons are encased in a soft matte elastomer, allowing them to be flexible but still hold shape. A row of electromagnets would turn on an off in turn pushing the ribbon along, creating a wave.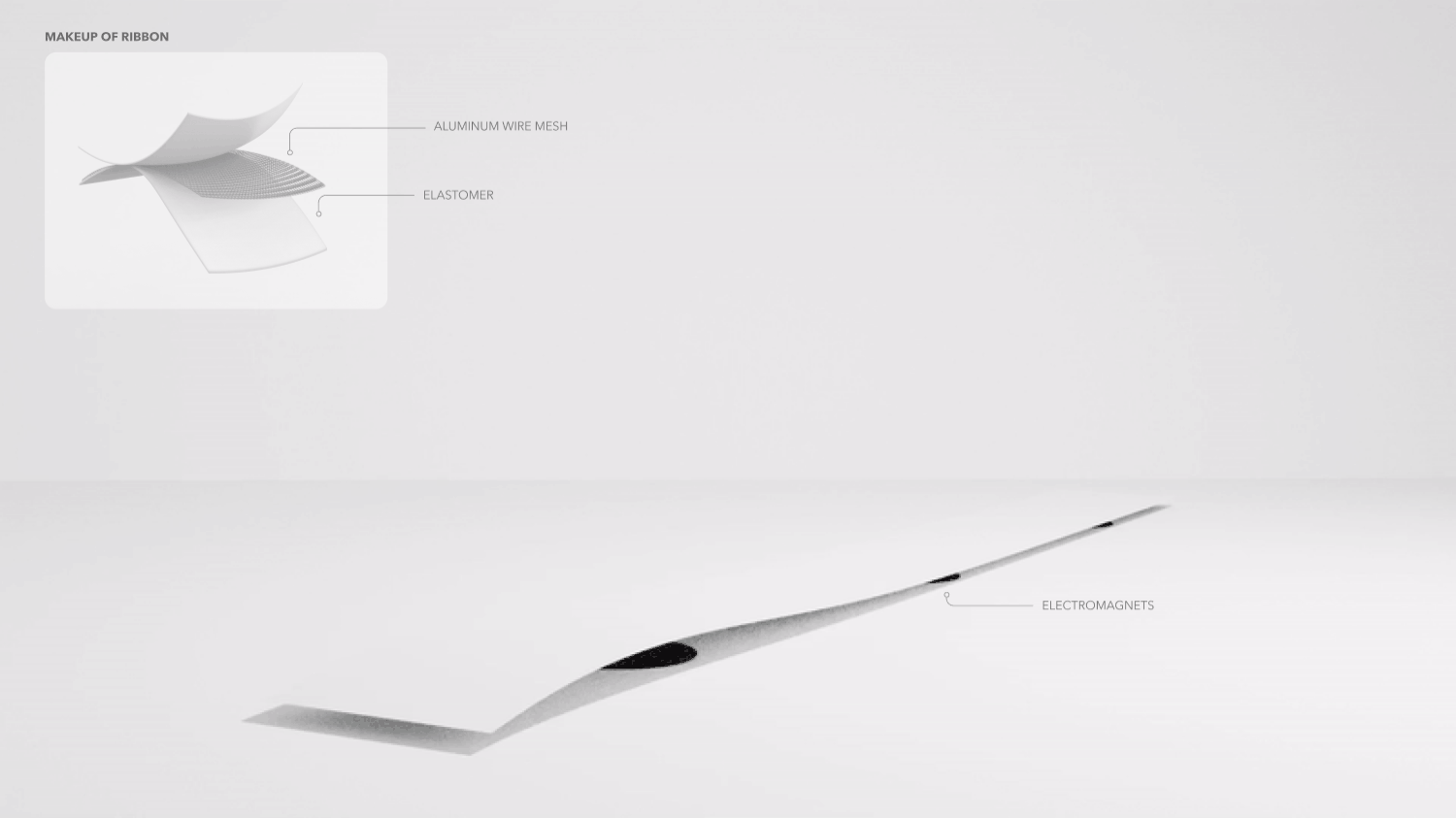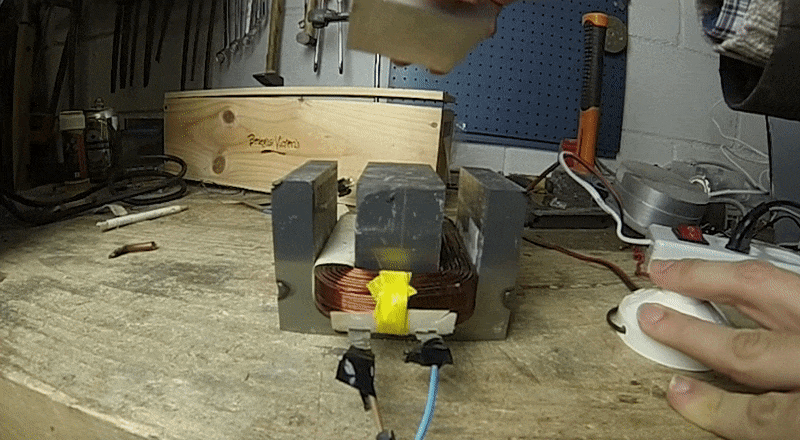 References
My desire to create a wave effect led me to discover electromagnets. 
I was first inspired by the simplicity of moving parts of the ferrofluid clock by Rhei (an array of electromagnets). Coming across this video on how nonferrous metals can be repelled from electromagnets, further put the pieces in place
Key Insight:
Interviewees reported enjoying doing work at cafés because seeing people around them working gives them the nudge to do the same. This differs from working in an office since everyone's a stranger – everyone's minding their own business. The calming, not work-like environment also brings down the edge of working.
The Approaches: 
a quick overview of the approaches explored based on research
Approach #1:

Immersive Environment


I began by researching technology that currently exists for immersive environments. I aimed to avoid VR/AR experiences since I didn't want users to be overly immersed, since it may cause a work-life imbalance. I explored projections to having it only powered by solar panels, making one unable to work at night. Though the ideas were interesting, ultimately I felt that the experience lacked something real.
Approach #2: Desk Companion


In contrast to the first approach, I wanted to lean more towards a physical and personal presense/reaction to your work. What I found was that it was too contained and could be easily be ignored/just add clutter to the workspace.
Approach #3: Environment with Others


As I was struggling for a direction, I learned about Focusmate. This closely aligned with what I found in my research, where most found motivation to work in an environment where others are working and minding their own business. However, this is requires your camera to be on and is with one person. I wanted to create a more holistic view of a workspace and a more "private" representation of someone working without losing the sense that "you should work since someone's watching you."